August Favorites 2016
Hi Loves,
I know I'm super behind on posting my August Favorites 2016 blog and video. Better late than never! As most of you know, I'm a working makeup artist. I recently did makeup for a magazine editorial photoshoot, clothing line lookbook, and clothing catalogs. One of my client's is a blogger and wanted her makeup done for photos for her blog. It's been fun!
These are my August Favorites 2016!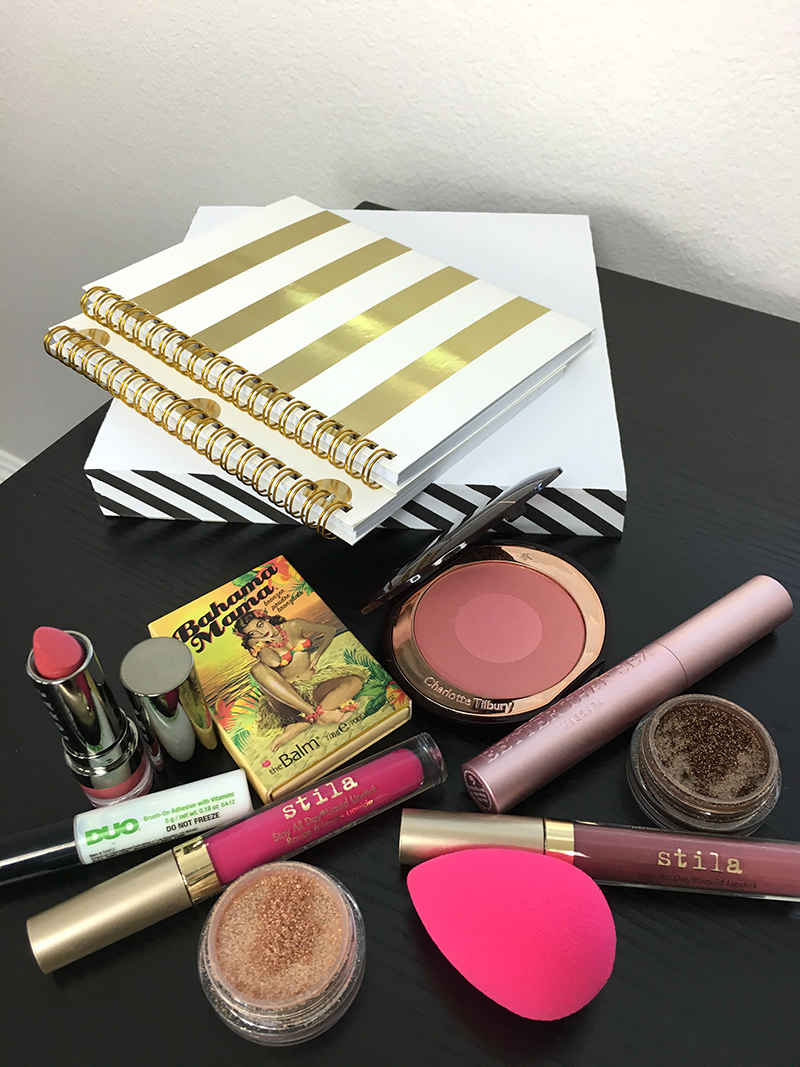 Charlotte Tilbury Cheek to Chic Swish & Pop Blush in Love Glow – I used this blush during my recent video with my friend Alanna who's an actress, teaching her how to do makeup for her auditions. Charlotte Tilbury suggests you take your brush and swish it around the outside color, then apply that to the apples of the cheeks sweeping upward. Then take the center shade and apply right to the apples of the cheeks for the pop and glow!
Too Faced Better Than Sex Mascara – I've been using this mascara on set a lot lately. It separates, coats, and curls the lashes. I love how much more volume it gives to the lashes too!
Pink Beauty Blender – As a makeup artist, I typically use the black beauty blender pro on set. Lately, I've been reaching for the pink one!
Duo Brush On Lash Adhesive in the white and green packaging – I recently added this to my pro kit. I've been using it for my clients that are sensitive or those that are allergic to latex.
Sigma Beauty Loose Shimmers – I've been using a lot of gold and bronze shades for the eyes lately. My favorites have been the Sigma Beauty Loose Shimmers in the shades Gilded and MidSummer. These are loose eyeshadows that I also like to use to mix into lipgloss and lipstick for added glow.
The Balm Bahama Mama – I was organizing my makeup and recently put this bronzer back into my kit. This bronzer provides a pretty beachy glow to the skin!
Lorac Alter Ego Seductress – This is a rosey pink lipstick with an opaque matte finish.
Stila Stay All Day Liquid Lipstick in the shades Patina and Bella – I used Bella recently in my Bronze Eye Makeup Tutorial and just love it. These liquid lipsticks are creamy. These lipsticks contain vitamin e and avacado oil to hydrate and soften the lips.
That's it, those are my August Favorites 2016. Please let me know what your favorites are. I need new products!
Watch my August Favorites 2016 video:
Shop Sigma Beauty
Use code SIGMA2016 for 10% off the entire order
Enter code makeupbydebra for 10% off
Free US shipping on orders $50+
When filming, I like to use the Diva Ring Light Super Nova and Rode Video Mic Pro.
Some are affiliate links.
♥ Debra Johnson Makeup Artist Orange County, California
Don't forget to share, comment, and subscribe!
SUBSCRIBE TO MY BLOG!