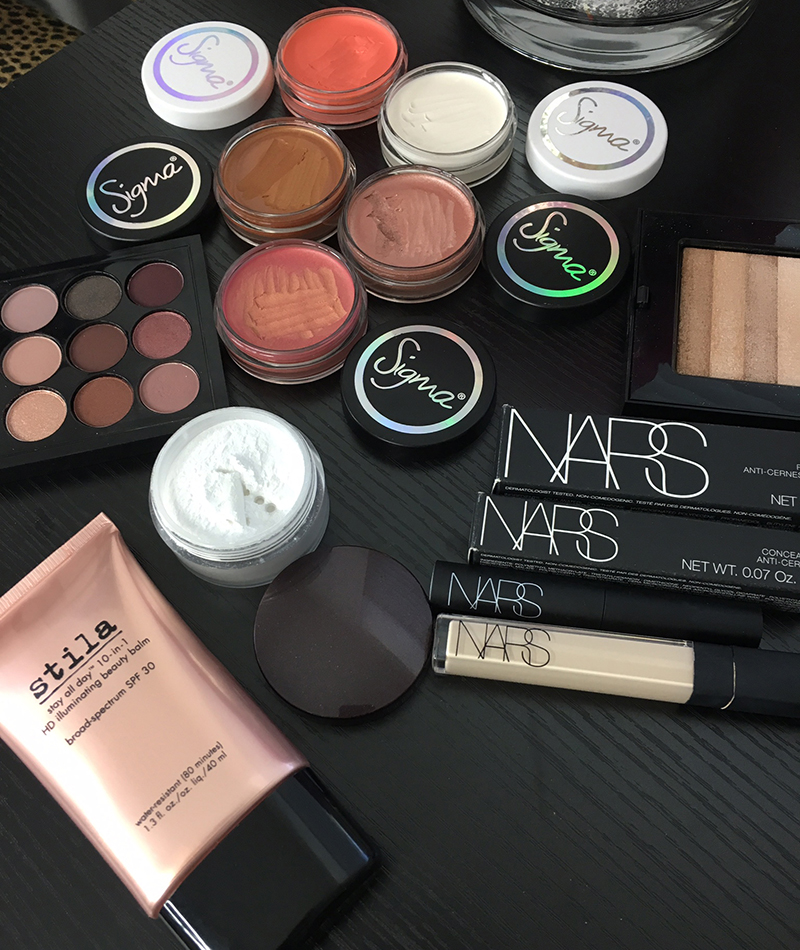 Hi Loves,
I wanted to share my makeup favorites that I've been using personally and on set. Here are my March Favorites 2016.
MAC Burgundy Times Nine – You can create so many different looks using this eyeshadow palette. These shadows come in an array of textures from matte, to satin, to frost. This palette is great for travel!  Shades include: Noir, Honey Lust, Quarry, Antiqued, Star Violet, Haux, Embark, Sketch, and Poppyseed.
NARS Radiant Creamy Concealer – This concealer has a luminous finish and I tend to use it mostly under the eye area. It is lightweight, buildable, and provides nice coverage. Test results have showed a 98% improvement in skin's hydration with lasted up to 12 hours. It's dermatologist tested, non comedogenic, paraben, alcohol, and fragrance free.
NARS Concealer – I usually use this concealer around the nose area and also use it for dark spots. This concealer has a creamy texture and contains a vitamin-rich formula that nourishes the skin.
Laura Mercier Secret Brightening Powder – This powder is great for setting corrector and concealer under the eye area. It adds an invisible lightening boost. I place the powder on the brush and lightly pat into the skin, don't sweep or drag. This product is to only be used on areas to be lightened and brightened. It contains a white pigment and should not be used over the entire face.
Bobbi Brown Shimmer Brick Beige – I used this on set to give the model a natural glow to the skin by place it on the tops of the cheekbones where light naturally hits the face. This highlighter was handmade in Italy. It features superfine pigments that reflect radiance and light.
Stila Stay All Day 10-in-1 HD Illuminating Beauty Balm – I've been using this beauty balm to bring radiance to the skin. This is an oil-free formula that uses the smallest particle of coated pigments for seamless, smooth coverage. It's ideal for all skin types and skintones. It provides that lit-from-within glow. From the website: "The formula is infused with innovative micro-spheres, which have been shown to hide skin imperfections and reduce the appearance of wrinkle depth by up to 84 percent. It also contains natural, skin-protecting emollients, which have been shown to increase antioxidant activity by up to 89.7 percent."
Sigma Beauty Shimmer Cream Brilliant – These shimmer creams were created as a brightener to be worn anywhere on the face. I use the Brilliant shade to as an eyeshadow or under the eyeshadow to make it more pigmented.
Sigma Beauty Shimmer Cream Sultry – This is a great bronze color. I apply this where the sun would naturally hit the face.
Sigma Beauty Shimmer Cream Superb – I like to use this shade alone as an eyeshadow. It's pink with flecks of gold.
Sigma Beauty Shimmer Cream Bliss – Such a pretty peach shade. I use this as a cream blush and also a lipstick.
Sigma Beauty Shimmer Cream Beacon of Light – This shade is great to highlight cheekbones and also on the cupids bow.
Here is my March Favorites 2016 video:

Promo Codes:
Shop Sigma Beauty
Use code SIGMA2016 for 10% off the entire order
Free US shipping on orders $50+
When filming, I like to use the Diva Ring Light Super Nova and Rode Video Mic Pro.
Some are affiliate links.
♥ Debra Johnson Makeup Artist Orange County, California
Don't forget to share, comment, and subscribe!
SUBSCRIBE TO MY BLOG!