Hi Loves!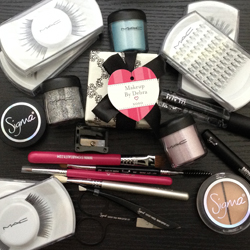 As you know, once in a while I randomly post "Ask Me Anything" (makeup related) on my social media pages. Sometimes I am able to answer these questions right on the spot; others I like to blog about. I received a great question from a fellow makeup artist and thought it would be really fun to answer it here!
Q: What are your absolute top ten makeup must haves for your kit?
A: This is a fabulous question! Each makeup artist has their favorites depending on what type of work they do. Here are my top ten makeup must haves for my kit. Even if you aren't a professional makeup artist, you may find some of these items useful and can be a nice addition to your makeup bag. 😉
I hope you enjoyed reading my top ten makeup must haves for my kit. Feel free to share your favorites!
♥ Debra Johnson Makeup Artist Orange County, California
Don't forget to share, comment, and subscribe!
SUBSCRIBE TO MY BLOG!