Hi Everyone!
As a Makeup Artist, I'm always testing out new products and looks. I've been totally obsessed with peaches this week and just had to share! ♥
My favorite peach makeup must haves are as follows:
1) Sigma Beauty Eye Shadow in the shade Grasp – This shade is a gorgeous papaya color from Sigma Beauty's Individual Eye Shadow Collection. It has a pretty frost finish and blends just beautifully. This shadow is so rich in pigmentation and is paraben-free. Today I carved this color right into my crease. This shade is so versatile; you can use it on the lid, crease, or under the eye. It's a total must have in my book!
2) MAC Cosmetics Tinted Lipglass in the shade Pink Lemonade – What a cute name! 😉 This shade is exactly that…pink lemonade! With this lipgloss you can create a high gloss or subtle sheen, all depending on how you apply it. I ended up pairing it with a lip pencil for added definition. Love it!
3) Essie Nail Polish in the shade Peach Daiquiri – Seriously too adorable! I know, totally not makeup, but I just had to have it! This color packs some punch with a powerful peachy coral hue. Perfect for summer!
You can check out these products by clicking the links. Let me know what you think!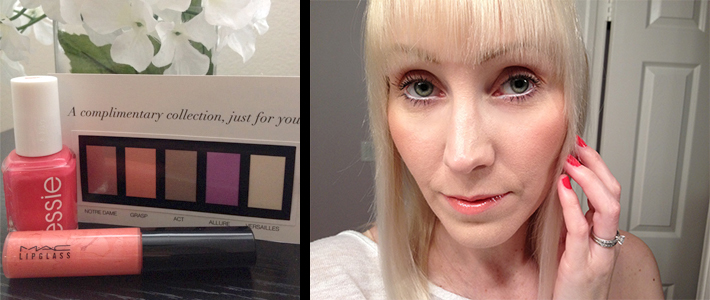 ♥ Debra Johnson Makeup Artist Orange County, California
Don't forget to share, comment, and subscribe!
SUBSCRIBE TO MY BLOG!