Hi Everyone!
I was running some errands at the local drug store the other day and had to stop when I saw the cutest makeup packaging by Physicians Formula! They currently have 10 different lines: Mineral Wear, Eye Booster, Sexy Booster, Nude Wear, Bronzers, Organic Wear, Super BB, Shimmer Strips, Youthful Wear, and Super CC. My faves in particular are the Sexy Booster, Nude Wear, and the Shimmer Strips.
The ultimate must have is Sexy Booster, which comes in gorgeous red and black packaging with a silver high heel shoe charm! Love it! ♥ They market this as "the 1st ever line of makeup to inspire sexy self-confidence!" Lol too cute!

Note: Each of these products are infused with a warm vanilla fragrance. There are 6 items in the Sexy Booster line: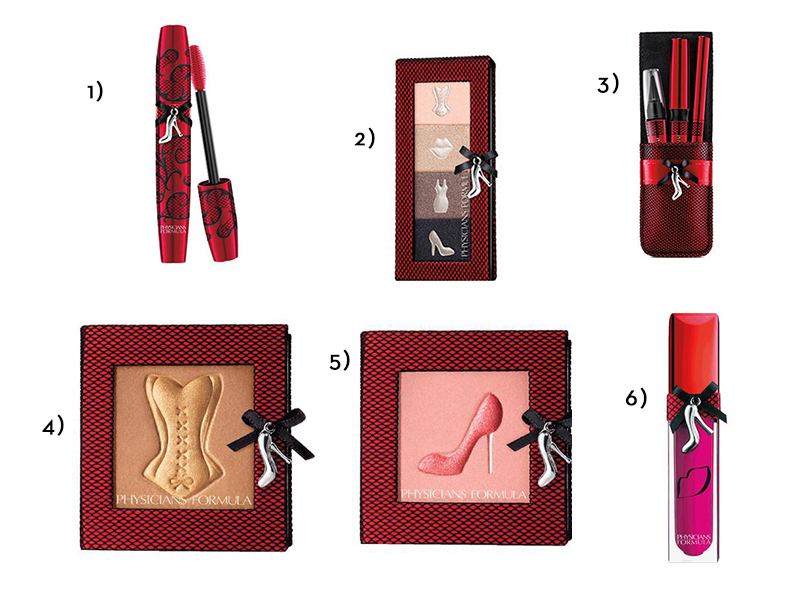 Va Va Voom Volume Mascara – This mascara volumes, lengthens, curls, and is 24 hour wear. It is only available in black.
Oh So Sexy Eye Shadow Quad – Great eyeshadow palette for a neutral smokey eye that comes with a highlight, shadow, contour, and liner. I would use the "liner" as a black eyeshadow right in the corner of the eye to really smoke it out.
Ooh La La Sexy Eyes Trio – This set comes with a felt tip liner, kohl liner, and eyeliner pencil. I like to use the felt tip liner on the top of the eye, the kohl liner in the waterline, and the eyeliner pencil under the eye.
Sexy Glow Bronzer – This is a blend of bronze and gold highlighters. Swirl your brush in circles to pick up both colors and dust lightly for a natural glow. I just love the corset design…so adorable!
Sexy Glow Blush – This has two colors in one, a light pink and darker rose. Dust on the apples of the cheeks and sweep up to the ear for a more defined look.
Sexy Glow Stain – Comes in hot pink or red. Both colors are kiss-proof and rich in pigment!
In addition to loving the packaging and the colors, Physicians Formula is hypoallergenic, paraben-free, gluten free, and dermatologist approved. It is also safe for sensitive eyes and contact wearers. Yay!
Enjoy!
♥ Debra Johnson Makeup Artist Orange County, California
Don't forget to share, comment, and subscribe!
SUBSCRIBE TO MY BLOG!