Favorite Makeup Brushes
Hi Loves,
I thought I'd share with you what my favorite makeup brushes are to use on set while working and personally. I created a video to go with this blog post.
Sigma Beauty Brush Cup Holder – I like to store my personal makeup brushes in these cups and place them on my bathroom counter. They are also great for travel to keep your brushes protected.
Favorite Makeup Brushes For The Eyes
MAC 217 Blending Brush – Oval shaped brush for power or cream. I like to use this brush for applying eyeshadow in the crease.
MAC 224 Tapered Blending Brush – Dome shaped brush to blend out eyeshadows so there are no harsh edges.
MAC 239 Eye Shader Brush – Shader brush to build and press powder on to the lid.
MAC 242 Shader Brush – This brush is great to apply concealer and carve out eyebrows.
MAC 219 Pencil Brush – I use this pencil brush to smoke out the under eye with eyeshadow or eye pencil.
Sigma Small Tapered E45 Brush – To blend out eyeshadow even more than the MAC 219.
MAC 263 Small Angle Brush or MAC 266 – I like to use this brush to easily apply gel liner.
Sigma Small Angle E65 – I use this brush personally to apply gel liner.
MAC 205 Mascara Fan Brush – Fan shaped brush to apply mascara from root to tip. Also paint the top of the lashes for blacker lashes.
Favorite Makeup Brushes For The Face
MAC 190 Foundation Brush – I use this brush to apply moisturizer, primer, and foundation.
Sigma Large Fluff E50 – This brush is used to set concealer with powder.
MAC 109 Small Contour Brush – Rounded dome shape. I like to use this to contour the cheek bones.
Sigma Chisel and Trim Contour F77 – Start at ear and work downward with product to contour cheek bones.
Sigma Large Angled Contour F40 – To blend out any harsh edges of the contouring.
Sigma Soft Angle Contour F23 – Great soft fluffy brush. I like to use it to apply bronzer.
MAC 116 Blush Brush – Perfect shape to apply blush on apples of cheeks.
MAC 133 Small Cheek Brush – Soft and silky for a precise application of product.
Sigma Duo Fibre Power Blush F15 – Duo Fibre provides light application for blush or highlight.
MAC 184 Fan Brush – Clean up excess product and highlight cheekbones.
Enter code "makeupbydebra" for 10% your order with Sigma Beauty!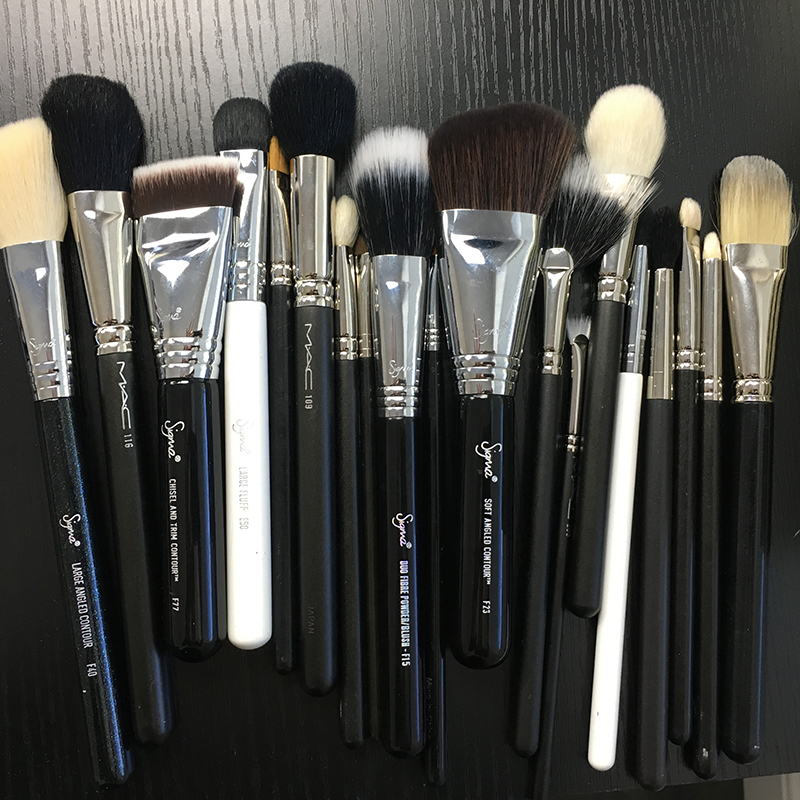 Watch my Favorite Makeup Brushes video on YouTube:
Shop Sigma Beauty
Use code SIGMA2016 for 10% off the entire order
Enter code makeupbydebra for 10% off
Free US shipping on orders $50+
When filming, I like to use the Diva Ring Light Super Nova and Rode Video Mic Pro.
Some are affiliate links.
♥ Debra Johnson Makeup Artist Orange County, California
Don't forget to share, comment, and subscribe!
SUBSCRIBE TO MY BLOG!