Hi Loves,
I received these gorgeous Esqido Lashes the other day and wanted to share them with you! Esqido Lashes is a well-known brand in the makeup industry. As a pro makeup artist, I'm always looking for the best products on the market to use on set and for my private clients. All the well-known models such as Adriana Lima, Gigi Hadid, Candice Swanepoel, and Karlie Kloss have been spotted wearing these beautiful lashes. Esqido Lashes are professional grade mink lashes. They are handcrafted from the softest and finest naturally shed mink hairs, which provide a natural look. The lash band is light weight and crafted with a cotton band that are easy to apply and comfortable to wear.
I received 2 pairs of lashes in the mail – "Little Black Lash" and "Lashlorette". First of all, how cute are these names? ♥ These lashes come in the most gorgeous sleek white box with rose gold script. On the back of the box it states: "Every pair of ESQIDO eyelashes is handcrafted with 100% premium mink hair." There is a little booklet inside that provides instructions on how to apply, remove, and how to care for these lashes. They also have a 60 day guarantee from the date of purchase.
"Little Black Lash" is a must have for everyone! The hairs on these lashes are perfectly spaced out, which provides a natural look and ideal to subtly enhance ones natural lashes. This pair of lashes is great for someone that may have short or sparse lashes or for someone that is looking for a little extra daily lash to their look. I'd use these lashes for a bridal shower or on a bride that may be looking for more of a natural look. These lashes would also be a perfect addition to a simple makeup that I'd create on a model for a clothing line lookbook. "Little Black Lash" is $28 and you can purchase on Esqido.com.
"Lashlorette" is all about the drama! The combination of criss-cross and straight strands provides a sultry look perfect for a night out, holiday party, or for that bride that is looking for more glam. As a makeup artist, I'd also use these on a model for a magazine editorial for more of a dramatic look. The lashes are listed for $29 on their website.
I was really excited to learn that Esqido Lashes also makes an eyelash glue called "Companion". The glue is listed for $10 on the Esqido website. This glue is formulated for mink lashes, is invisible (once dry), and my favorite part, latex-free! The glue is contained in a frosty clear bottle (that looks like a lip gloss tube) with a rose gold cap. Once you open it, there will be an application wand that makes it easy to coat the lashes easily with the glue. Make sure to wait a few seconds for the eyelash adhesive to become tacky. Then, place the lashes onto the base of your natural lash line. You will find detailed instructions on the Companion Eyelash Glue box.
These lashes are beyond perfection and I hope to add a few more styles to my collection! If you try them out, be sure to tag me @makeupbydebra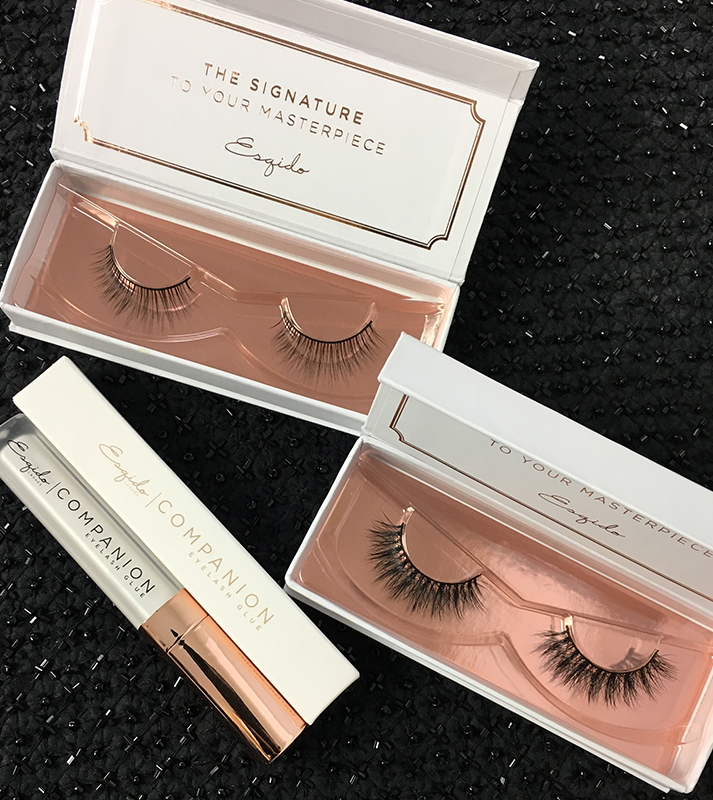 ♥ Debra Johnson Makeup Artist Orange County, California
Don't forget to share, comment, and subscribe!
SUBSCRIBE TO MY BLOG!